TENBY was left with empty cans, broken bottles and fast food wrappers strewn everywhere, after over two hundred young people gathered to enjoy the weekend – perhaps expected whilst pubs remained closed.
Licensed establishment have not yet been able to open in Wales, but they are open in England for outdoor refreshments.
There were reports of young people walking through the town with boxes full of alcohol on Saturday night (Apr 17), with other people buying takeaway drinks from licensed premises before making their way to the harbour.
The sheer number of people meant people were urinating in the streets, some residents told The Pembrokeshire Herald.
Facebook comments from people concerned included Larry Lambert who said: "Most of these are probably around my age, have some respect for the place, you all wouldn't like it if this happened outside your house and left all the rubbish for you to wake up to, disrespectful!"
Kyle Scourfield said : "Aw guys. We're literally on the track where we can see light at the end of the tunnel, don't ruin it now. More importantly, pick up your rubbish and look after our coast. I'm bloody dying for the nightclubs so seriously, take it down a notch!"
Danny Wilson who took the below photo said on social media: "This [photo was taken] after nearly two hours of cleaning up. Completely blame the government for this if pubs were open there would be next to no take outs and 20 odd doormen keeping an eye on things every weekend, but that's no excuse to act like absolute savages with zero respect for anything.
"I've never seen as much broken glass like there was today! Definitely give the harbour and castle hill a swerve for a couple of days if you've got kids or dogs."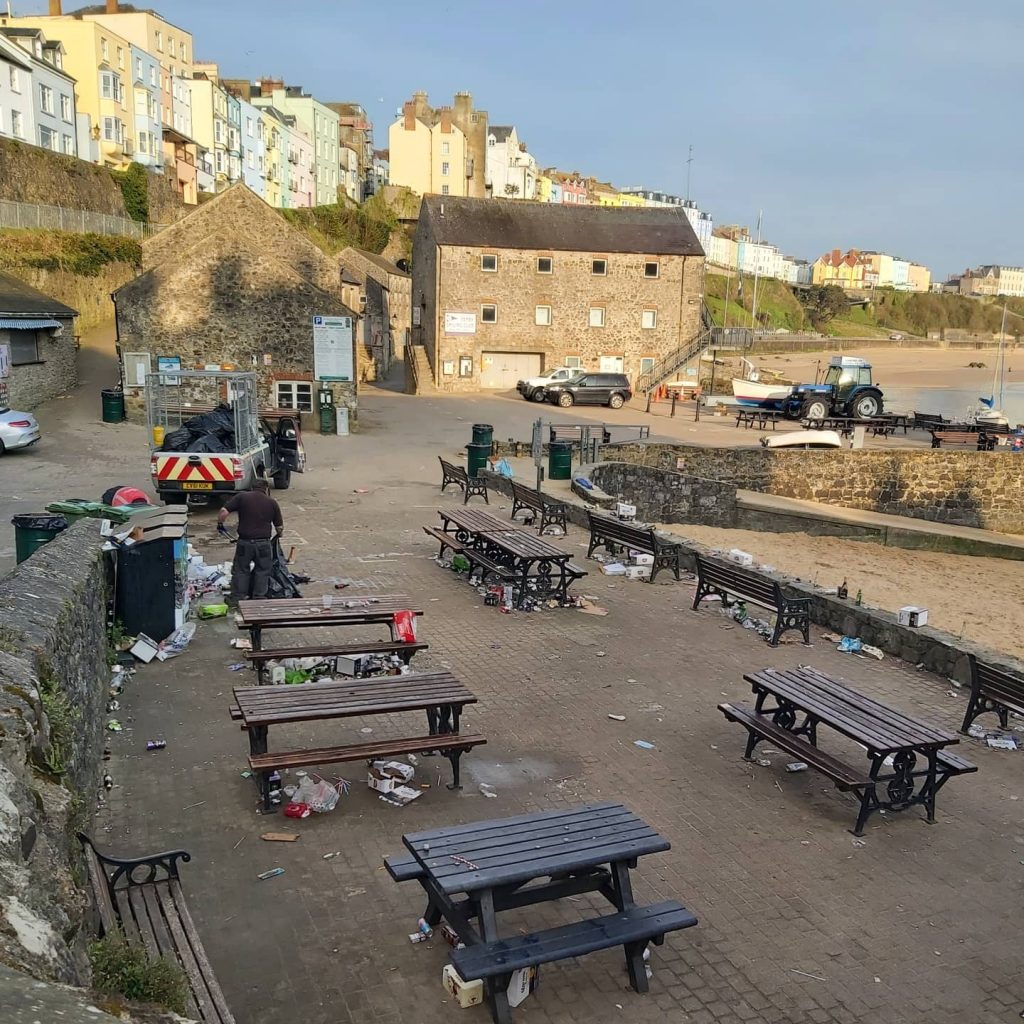 Pembrokeshire County Council operatives have been working since earlier this morning to remove rubbish in various locations in the town, including piles of bottles and other litter under picnic tables at the harbour.
The Tenby Observer has reported that in correspondence sent to Pembrokeshire County Council's licensing department, county councillor for Tenby's North ward Clr. Michael Williams said: "From as early as late afternoon, the situation at the harbour has become threatening with residents feeling unsafe due to the considerable numbers of individuals in the area consuming large quantities of alcohol.
"Police Officers appear to be overwhelmed by the numbers and are unable to take the necessary firm action to disperse a crowd that I estimated to be about 200. These kind of events are becoming a regular occurrence and action must be taken to address it.
"We appear to have taken several steps backwards to where we were a number of years ago when Tenby was becoming regarded as party central for groups of stag and hen events.
"Certain parts of the harbour estate are being used as a public urinal causing distress to families attempting to lawfully use the area."
One local, who did not wish to me named said: "The police operation last week, which was widely publicised, seems to have failed miserably.
"Instead of going out last week when police were out in force, the youth of south Pembrokeshire seem to have waited until this weekend and have partied twice as hard.
"I understand that resouces are stratched but where were the police this weekend?
"Something needs to be done, we don't want a third wave."
Over the Easter bank holiday officers seized alcohol from young people, moved them on and prevented clashes between groups from escalating.
Speaking just ten days ago Sgt Stuart Wheeler said that there was concern from the Tenby community and that police were 'keen to avoid a repeat of this behaviour'.
"This type of behaviour is distressing for people living and working in Tenby," he said.
"We understand that the past few months have been difficult, and that children want to see their friends, but remember that only six people from two households can meet outdoors still.
"Please do your best to ensure they [your children] are adhering to regulations that are in place for all our safety."
The police have been contacted for an updated comment.
Cover photo used with the kind permission of Pure West Radio
Related posts