THE MOBILE Library Service will be visiting Narberth every Monday and Saturday morning in January while the town's library remains closed.
The library requires emergency building maintenance to be carried out and the Mobile Library will ensure that book lovers continue to be well served.
The Mobile library will be parked in the lower Narberth Town Moor car park between 9am and 12 noon on Mondays and Saturdays throughout this month.
The vehicle carries a selection of all categories and formats of stock, including: adult, junior, Welsh language, fiction, non-fiction, hardback, paperback, large print and audio recordings. Narberth Town Council, which leases the library building from Pembrokeshire County Council, hopes that the work will start shortly.
Anita Thomas, Pembrokeshire County Council Libraries Manager, said: "The exact timeline for the work has yet to be confirmed, but we are hoping it will not take too long once started. "In the meantime, we hope that local library customers will take advantage of the Mobile provision instead.
We know people are missing their library, the library staff and volunteers." Local County Councillor, Marc Tierney, said: "I'm pleased that the Mobile Library will be used as a temporary measure, so that local library users can access the lending service, to keep their library habit going."
Cllr Tierney, who is also Chair of the Friends of Narberth Library, added: "The Library volunteers are greatly missing their roles.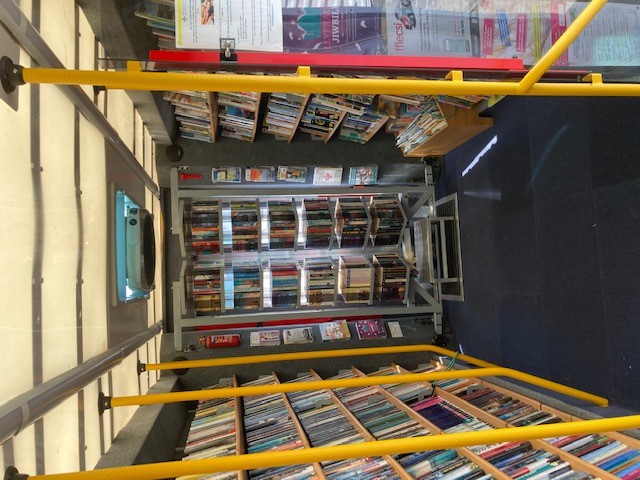 "Narberth Library offers a unique experience, and we very much look forward to the building works being completed so that our team of library volunteers can help residents discover new titles, discuss their favourite authors and access the full range of local services once more."
Narberth is a Community Managed Library, with a three-way partnership between Pembrokeshire County Council Library Service, the Friends of Narberth Library and Narberth Town Council, which was established in 2016.
All items currently on loan from Narberth Library have been extended so there is no need to worry about overdue fines when or wherever the items are returned.
Customers are also able to use their Library Card in any Pembrokeshire Library in the meantime, including lending and returning items.
Narberth Library is due to relocate to a new building, as part of the Old School redevelopment, in late 2023.
You can find out more information about Pembrokeshire Libraries at: https://www.pembrokeshire.gov.uk/pembrokeshire-libraries