AS PART of the easing of lockdown restrictions, hospitality business owners let out a sigh of relief after a long winter as it was announced by Mark Drakeford that the sector could open – partially – on April 26th.
Pubs, cafes, and restaurants can now serve customers outdoors.
Indoor hospitality is not allowed to return until May 17th.
Announcing the changes, First Minister Mark Drakeford said: "The public health context in Wales remains favourable, with cases falling and our vaccination programme continues to go from strength to strength.
"Because meeting outdoors continues to be lower risk than meeting indoors, we are able to bring forward changes to allow any six people to meet outdoors.
"This will provide more opportunities for people, especially young people, to meet outdoors with their friends.
"This will undoubtedly have a significant positive impact on people's wellbeing. I'm also pleased to confirm outdoor hospitality will be allowed to reopen from Monday 26 April.
"These changes will help the hospitality sector recover after a difficult twelve months. It is thanks to the continuing efforts of people across Wales we are able to introduce this change. Together, we will continue to keep Wales safe."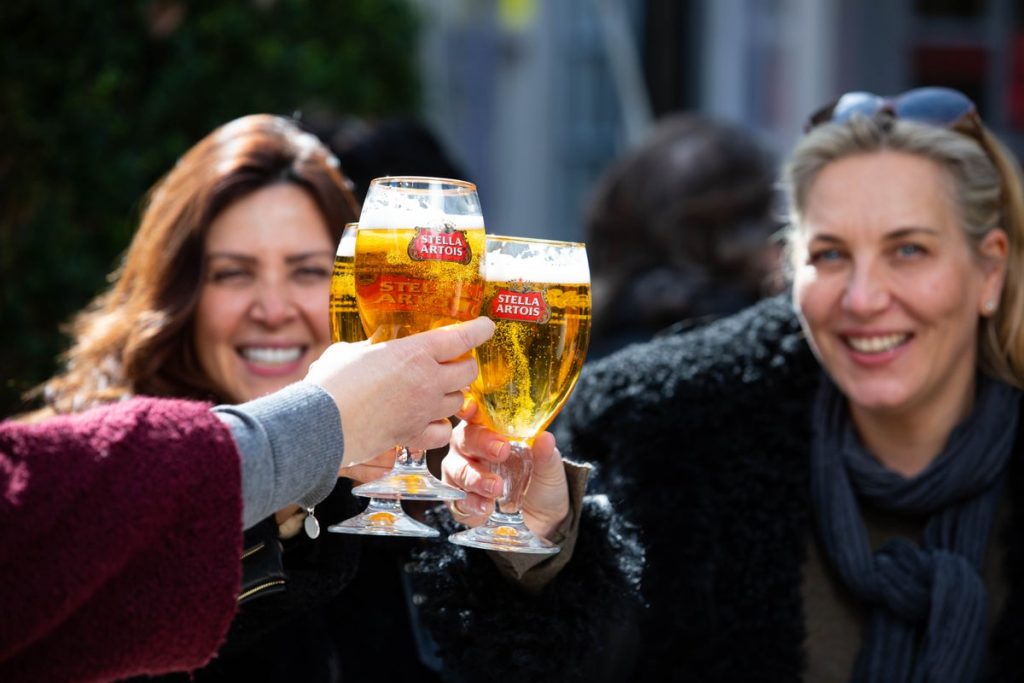 Reaction to the changes
Welcoming the announcement Jane Dodds, leader of the Welsh Liberal Democrats, said it was "great news".
She said: "As a nation we must all work together to ensure the vaccination programme continues and that the lockdowns and closures we've been through never need to return."
Welsh Conservative Senedd leader, Andrew RT Davies, said: "Labour had ample opportunity to bring forward a roadmap out of lockdown, but refused to do so.
"Thanks to the UK's great vaccination story much more detail could have been announced prior to the election period… but Labour chose to play politics instead of adopting the Welsh Conservative roadmap."
Mark Reckless, from the Abolish the Welsh Assembly Party, said: "This is getting to the point of testing election rules to breaking point.
"The Labour leader is using his platform as first minister to make political announcements during an election campaign."
So what do businesses have to do by law?
Welsh Government guidance states: "As an employer or business operator, you have a legal responsibility to protect employees and visitors; and anyone else on the premises, from risks to their health and safety. You also need to assess the risks from COVID-19 and take reasonable measures to minimise exposure to the virus.
"Risk assessments are used to identify and address these risks or minimise them. When undertaking your specific COVID-19 risk assessment you must comply with the Coronavirus Regulations and have regard to the statutory guidance and use this document to inform your decisions and control measures, recognising you cannot eliminate all risks.
"Risk assessments must be reviewed and updated regularly, whenever circumstances change including whenever the coronavirus alert levels change in Wales.
"A risk assessment is not about creating huge amounts of paperwork, but rather about identifying sensible measures to control risks. Your risk assessment will help you decide whether you have done everything you reasonably need to. There are interactive tools available to support you from the Health and Safety Executive (HSE) at Managing risks and risk assessments at work.
"These risk assessments will be the starting point for implementing the reasonable measures that are required to be taken to minimise exposure to the coronavirus on premises open to the public and in workplaces.
"This involves considering issues such as: whether ventilation is adequate; hygiene factors including hand washing and access to hand washing facilities; ensuring physical distancing is taking place and if 2m is achievable; the extent to which the use of screens, PPE and face coverings can mitigate risks, especially where the 2m distance is not achievable."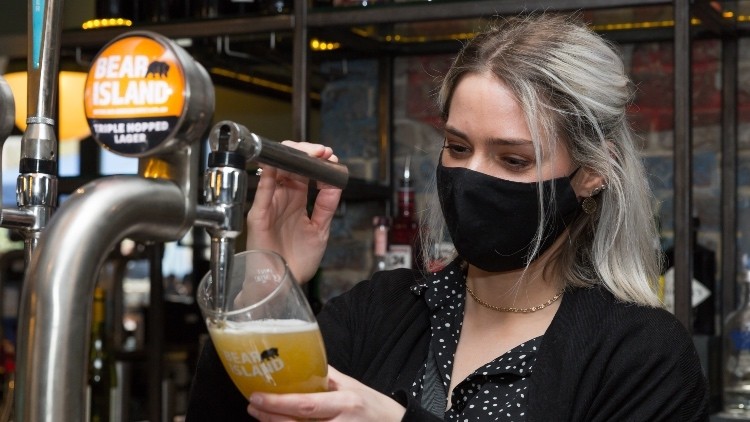 Made possible by the vaccine?
As of April 29th, Public Health Wales said a total of 1,816,451 first doses of the Covid-19 vaccine have now been given in Wales.
The agency said 732,643 second doses have also been administered.
Wales is currently in phase two of its vaccination programme, meaning the NHS is now inviting everyone aged 40 to 49 to be vaccinated, after successfully offering the vaccine to everyone in the JCVI priority groups 1-9.
It comes as an estimated six in 10 adults (61 per cent) in private households would have tested positive for Covid-19 antibodies in the week to April 11th, the ONS said on April 28th.

This is up from around one in two adults, or 48.2 per cent, two weeks earlier.
On April 7th, Wales became the first country in Britain to administer the Moderna vaccine.
It was also announced on April 14th that all over 16s who live with an adult with a weakened immune system are to be prioritised for Covid-19 jabs, following advice from the Joint Committee on Vaccination and Immunisation (JCVI).
Adults who are immunosuppressed have a weaker immune system to fight infections naturally and are more likely to have poorer outcomes after contracting coronavirus.
This includes those with blood cancer, HIV or those who are having immunosuppressive treatment.
What about hospitality that can't operate outdoors?
The First Minister has announced that an extra £200m is available to help businesses which are not yet able to open.
This will help top up the non-domestic rates grants. Mr Drakeford said it means hospitality, tourism, leisure and non-essential retail businesses, which must remain closed will be eligible for a third payment of between £4,000 and £5,000 to help them meet ongoing operating costs while they cannot trade.
"This is in top of the announcement earlier this week extending the business rates holiday for retail, leisure and hospitality businesses for the whole of the next financial year," Mr Drakeford added.
"We have made well in excess of £2bn available to businesses over the course of the last year to help them through the pandemic, which is over and above the support available from the UK Government's schemes.
"This is the most generous business support scheme available in the UK. I'm very pleased we've been able to safeguard more than 160,000 jobs in these most difficult of times."
Controlling the crowds
Hospitality catering to households who have effectively been locked down all spring will be a welcome sight to many after large crowds recently descended upon Cardiff Bay.
Police had been given special powers after crowds gathered in Cardiff Bay on April 2nd, despite coronavirus restrictions still being in place.
Cardiff council said a significant amount of rubbish had been left by "large groups of people intent on breaking Covid-19 restrictions".
South Wales Police has put a dispersal order in place, giving officers the power to exclude people from the area.
Covid rules at that time stated six people from two different households could meet outdoors. It followed similar scenes outside the Senedd earlier that week, when three police officers were injured.
Supt Marc Attwell said: "As restrictions have eased, the need for personal responsibility is critical and it is extremely disappointing that a small minority are willing to put themselves, and others, in harm's way.
"Cardiff Bay in particular has attracted large crowds over the past few days.
"The behaviour seen over the past three days has placed additional pressure on not only the police but the local authority as well, and meant that officers have been diverted from other parts of the force."
"We are asking people in groups of six or more who are thinking of attending or organising a gathering at the Senedd over this bank holiday weekend not to do so."
Officers arrested a 20-year-old man for a public order offence, a 22-year-old woman was arrested for being drunk and disorderly and for possession of a Class A substance and a 35-year-old-man was also arrested for possession of a Class A substance.
The council said the trail of litter left a "huge task" for clean-up staff as "bins were left unused and the ground was littered with rubbish".
"Despite the preventative measures put in place by the council, in partnership with South Wales Police, the Welsh government's coronavirus regulations were again broken by a significant number of people illegally gathering in Cardiff Bay," the authority said.
"The rules are clear, six people, from two households are allowed to meet outdoors, maintaining two metre social distancing.
"Breaking these rules significantly increases the chances of Covid-19 cases rising in the city."
Now, with places for people to socialise in an organised manner, scenes like this should hopefully be avoided as people safely enjoy themselves.