A long-ish time ago in a town not too far away…
When you think Star Wars, you probably don't expect there to be too many links to this galaxy, let alone the Earth, or this country, and definitely not a town on the edge of west Wales.
However, arguably the most famous spaceship of all time was created for the multibillion dollar Star Wars franchise in Pembroke Dock in Pembrokeshire.
This was Code Name Magic Roundabout, which was commissioned for the making of the second Star Wars film, The Empire Strikes Back.
It was 1979 and the town had a long history of big projects under its belt. During World War Two, in particular, engineering was a very important part of the town.
One day, rumours started that a big saucer was being built in an aircraft hangar – with those going there every day sworn to secrecy.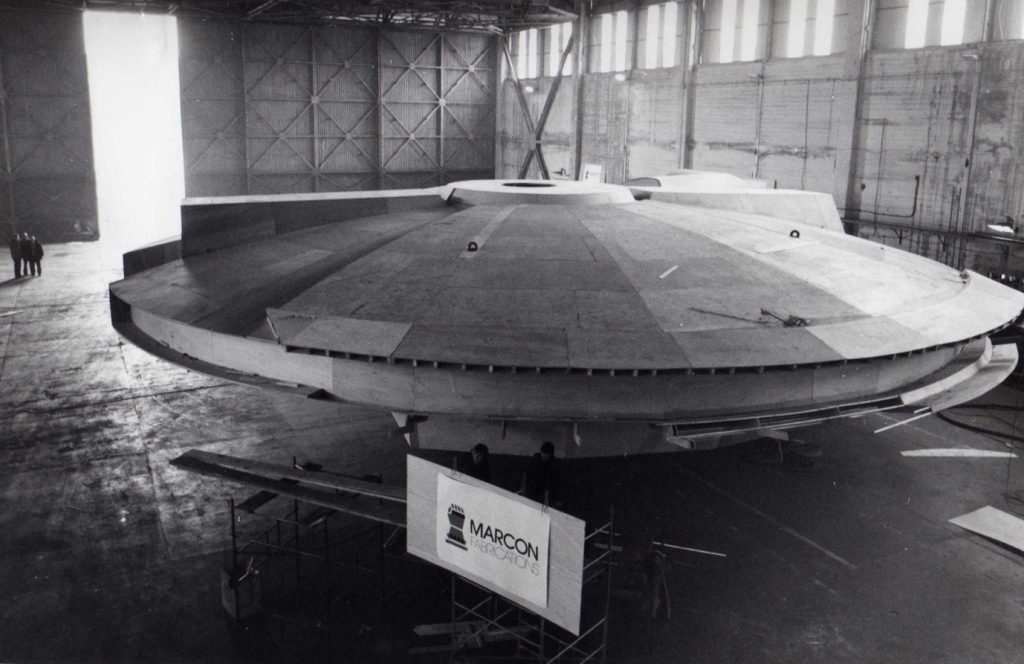 The Western Hangar at Pembroke Dock was bustling with joiners, welders and platers.
The giant steel doors were kept shut from morning until night, shielding the venture from prying eyes.
There were to be no photographs taken, no unauthorised visits, no loose talk. It was all hush, hush.
For three long months those workers were building a full scale Millennium Falcon, which was 73 feet in diameter and weighed over 23 tonnes.
The huge project was undertaken by Marcon Fabrications, which had built a reputation with steel projects for nearby petrochemical and oil industries.
Gowan Davies, who owned the shipyard where the Falcon was built, commented on the secrecy surrounding the project:
"No-body was allowed in and they kept it locked at all times. It was made out of timber on the outside of a steel frame.
"There were 30 or 40 men working on it – it was a hell of a big thing.
"Friends talk to friends. But they still did not allow anyone in although I saw it, of course, because I owned the hangar at the time."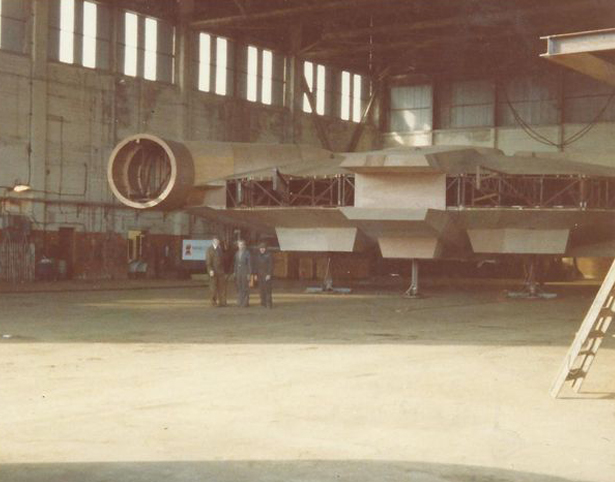 According to Brian Johnson, special effects supervisor on the film, the spaceship could fly – but only a few millimetres off the ground.
"It weighed approaching 23 tonnes and was 70ft in diameter," he told the Official Making of the Empire Strikes Back book.
"We fitted compressed air hover pads on the feet to lift the thing up so it could be pushed around without any wheels. The whole thing was actually floating on a cushion of air, with about a sixteenth of an inch between the feet and the floor.

"To get the Falcon from Pembroke it was dismantled and brought on lorries in sections, then put together on the sound stage at Elstree."
John Evans, a historian in the town, said: "Star Wars has a global following and this is yet another great reason for tourists to come here.
"Pembroke Dock is a military town and we have people coming from far and wide to follow family footsteps, be it Navy, Army or Air Force.
"But there is also this incredible link to Star Wars which is almost a cult thing and a 21st century concept.
"People can still see the very building where the Millennium Falcon was made."
John Clark, a foreman with Marcon Fabrications, also commented on the project: "One of the directors was in cahoots with someone with the studios or someone associated with the Star Wars films.
"I was very surprised that we'd gone that type of work because we built stuff for the oil industry and the offshore industry, but we got the contract. It was just a reasonable size team of workers that built all the framework.
"I was foreman on the job at the time. When we built it we had it on hover pads on the legs so that it could be moved as though it was going to take off and so forth.
"We tried to keep it as much a secret as possible because you didn't want everybody prying and coming round the hangar, but it got out. People were prying and trying to see what was going on but half of them didn't believe it, saying: "Building a spaceship? That's rubbish".
"The artists in the film industry, the craftsman, went to work on it and made it into what you see on The Empire Strikes Back."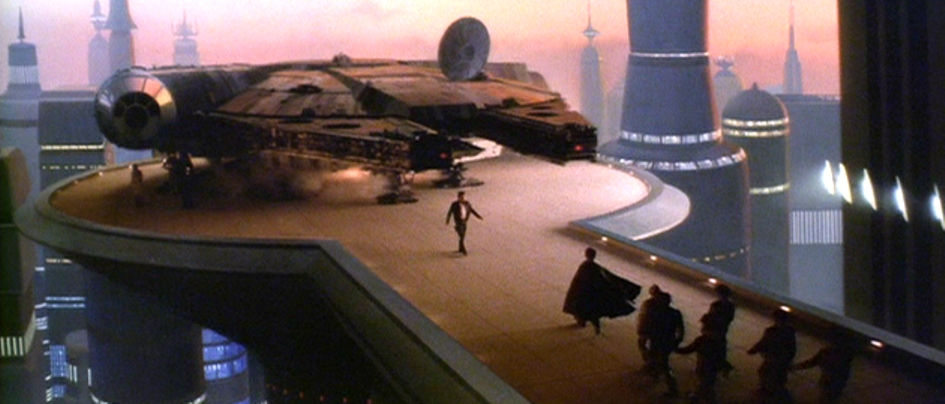 In the 38 years since it first appeared on the big screen, the space ship piloted by Han Solo and his Wookiee assistant Chewbacca in the original Star Wars series has become an easily recognizable piece of pop culture.
Armed with laser cannons and the famed 'hyperdrive' technology, it featured in the first movie A New Hope and went on to become a regular setting throughout the series.
Such is the high esteem in which fans hold it, the exact specifications of the model, its weaponry, shielding systems and engines have all been meticulously documented.
The ship, originally owned by Lando Calrissian but lost to Han Solo in a card game, is a YT-1300 Light Freighter measuring 111ft in length by 82ft wide and was built in the vast shipyards in orbit around the planet of Corellia. While it is rounded and flat in shape, it measures 26ft high – inclusive of the attached exterior weaponry.
Its maximum speed is 1,050kmph. But this is vastly surpassed when it goes into 'hyperdrive' – a mode illustrated in the films when the stars surrounding it appear stretched or blurred as it travels through light years within the space of hours.
The ship is powered by five different engines – primarily a 'Quadrex power core' and four backup or emergency generators. Its main weapons are 2G Quad Laster cannons and a hidden ground-defence blaster cannon, though many other improvised weapons make brief appearances in the films.
Capable of carrying six passengers, it is crewed by two people – those usually being Han Solo or Chewbacca – with provisions for two others to man guns during space battles.
And to think, all of that started in a hangar in Wales.