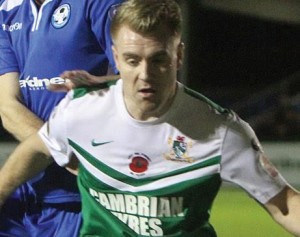 HAVERFORDWEST COUNTY have further strengthened their back line with the addition of Ryan Batley.
The 23-year-old, who was born in Portsmouth, has signed after leaving Aberystwyth Town.
The defender already has considerable Welsh Premier experience under his belt with 62 (+16) appearances for Llanelli, Afan Lido and the S easiders.
Batley was promoted to Llanelli's first team squad from the Under-19s for season 2009/10 and won a call-up to the Wales Under-23 semi-pros in November 2009.

He then joined Aberystwyth on a short loan deal in October 2011, returning to Stebonheath Park at the end of D ecember.
One of the players to remain with the Reds during the January 2013 exodus, Batley then signed for Afan Lido in the summer following Llanelli's demise.
He returned to Aberystwyth last August making 11 (+6) first team appearances.