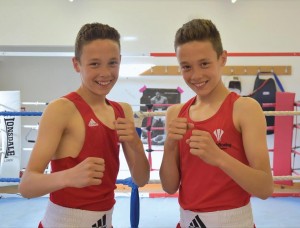 CRYMYCH schoolboy Ioan Croft produced the finest display of his budding career just when it mattered most to capture Cardigan ABC's first-ever British schoolboy title at Penyrheol, Swansea, on Sunday.
Pitted against England's highly-fancied William Birchall in the 43kg final at the GB Three Nations tournament, Croft completely dominated the awkward counter-puncher to seize the crown on a unanimous decision.
"Ioan boxed a blinder," the boxer's jubilant dad – Cardigan ABC head coach Guy Croft – said afterwards.
"Having seen Birchall demolish Wales' Creddy Jones in yesterday's semi-final I was a bit concerned about our chances today, but we worked out a strategy – Ioan darting with a right and left, stepping back to slip the counter and then straight back with the one-two. Fast, accurate punches and lovely footwork set the pattern for the whole fight."

A befuddled Birchall simply had no answer, constantly failing to tag the elusive Croft whilst being caught all the time by a continuous flow of punches.
"Winning a British schoolboy title is a pretty big deal for a small club from rural west Wales," said Cardigan ABC chairman Mike Lewis.
"Ioan's title testifies not only to the hard work he has put in, but also to the terrific parental support he and his twin brother Garan have received from Guy and Liz all the way along the line."
However, Garan's split decision loss in the 44.5kg semi-final deprived the Crofts of what would have been a famous family double.

The Crymych youngster was edged out by Scotland's Kyle Kerr following a very even contest.
"I felt Garan had done enough to win," said Croft senior. "It was so close. "I'm gutted for Garan because he would have a strong favourite to take gold in the final."
Cardigan's third entrant – Tom Morris, of Mathry, was outpointed by Scotland's Lewis Burns in the 50kg class despite a strong start.